IX International Mammalogical Congress(2005)
Mass Stranding of Killer Whale in Pack Ice at Aidomari, Rause, Hokkaido (Preliminary report)
Y. Uni1, M. Tazawa2, and Y. Masuda3
1 Uni's office of Nature-human Interaction Studies (e-mail: unisan@m5.dion.ne.jp); 2 Environment Section, Rausu Town Office; 3 Environment Section, Shari Town Office

Introduction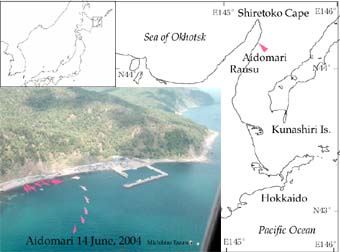 February 7, 2005, one pod of 11 - 12 killer whales were entrapped by surging drift ice, near Aidomari port, Rausu, in the eastern side of Shiretoko Peninsula. Despite of rescue efforts, only one female survived and 9 carcasses were found off the shore line in the morning of 8 February. The survived female escaped the ice floe, but a carcass was found off Rause town, on the next day. It is still unsure if the carcass is the female. Historically, 6 similar entrapment occurred off the Okhotsk coast of Hokkaido and of Etorofu Island.

Studies on the killer whales in Japan have just started. Various investigations on the present 9 individuals will yield important knowledge of North Western Pacific killer whales.

Fig. 1. Location of Stranding and Airial View of Aidomari. Dark pink picture indicate the positions of animals by sex and age

Brief Story of the Stranding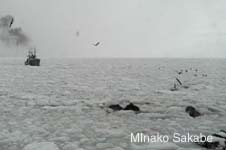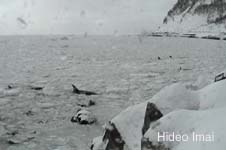 [left] The first finder, only resident family at Aidomari, heard odd voice in the early morning, then found 4-5 whales trapped in the ice floe. It was the first day of sea ice at shore along the Rausu coast. This photo was taken n the afternoon, the whales were more closed to the shore line. They seemed to be injured and blooded by surge and ice.

[center] The Fishing boat tried to get whales through ice, but only found too much shallow water depth. The ice floe quickly closed the open water way made by the boat.

[right] Human rescue was attempted in the late afternoon. Rausu and Shari town officers and volunteers tried to pull up a calf to the shore by a rope, but only to know its too much heavy weight for them.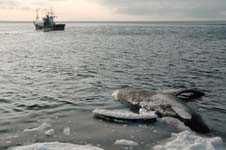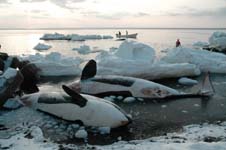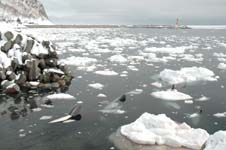 [left] 8 February, the next day of the entrapment, the pack ice became into sparse ice pieces. A crow pecked squid on ice was disgorged by a whales.

[center] In the early morning on 9 February, local divers prepared to towing the whales. They were tying the whale bodies with ropes from the outboard.

[right] The fishing boat towed the main rope which to the Aidomari fishing port. The carcasses were kept in the sea water by 14 February, the first day of dissection.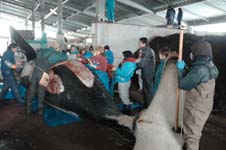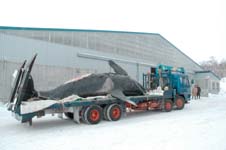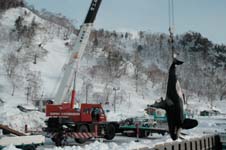 [left] 14 February, the carcasses were carried to the dissection place. Body weight was measured by crane scale at the port. Individual photo for identification was also taken there .

[center] The dissection place was located 40km south from Aidomari, a large compost plant, 40m x 65m, in mountainy area.

[right] 17 research group joined the dissection and another 9 institutes obtained samples. The dissection completed 7 carcasses 14 -16 Feb. and 2 calves were investigated in Tokyo 19 - 20 Feb..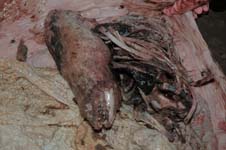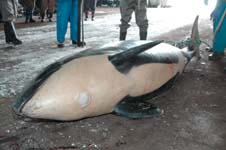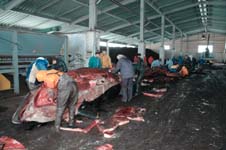 [left] No serious pathological condition was found in any carcass, although postmortem changes were severe especially among the larger animals.

[center] No significant disease and injures related with stranding or death was found. AKW3 had a cicatrix in the center of his jaw. It was probably caused by wound. The calves had several birth lines.

[right] All of the large animals had seals in stomach. Two of the three calves had milk, the other one was with empty stomach.

Table1. Sex, Body Length, Body Weight of Killer Whales
No.---sex---body length---body weight---note

AKW1---male-----765cm---6.6t
AKW2---female---563cm---2.6t
AKW3---male-----271cm---0.7t---calf
AKW4---female---658cm---3.7t
AKW5---female---686cm---4.7t
AKW6---female---600cm---3.5t
AKW7---female---298cm---423kg---calf
AKW8---female---274cm---364kg---calf
AKW9---female---654cm---4.1t

Body weight in tone measured by the crane scale. This had error within 0.1t, but AKW3 weighed 0.7t seemed unlikely heavy.

Historical Records of Ice-entrapment of Killer Whale in the Sea of Okhotsk
Table2. Historical records of Ice-entrapment of Killer Whales off Hokkaido and South Kurils in 1925 - 2005.
No.--date---------location---------number of animals---note

1--21 Mar 1925--Menashi-tomari, Esashi--13--calves included
2--ca. 1940-----Mae-hama, Shari.---------?
3--18 Mar 1943--Tanne-moy, Etorofu Is.--13--calves included
4--5 Feb 1977---Wen-nay, Esashi---------8--male2, female6; fetus1
5--7 Feb 2005---Aidomari, Rausu-------11 or 12--this poster
6--27 Feb 2005--Reidovo, Etorofu Is.------6

Source: 1: Kanoh, K. 1994. [Whale?]. Katsuraoka Shizen Shinbun (private print), 25:1-2. Otaru; 2: Photograph of Shiretoko Museum; 3: Yamada, I. 2000.[Sea Ice of my home Etorofu Is. - Ice-entrapment Whale] . pp36-40. In: Okhotsk Cultur Group (ed.)[My Sea Ice carry to 21th Century]. Abashiri; 4: Hokkaido Shinbun. 6, 10,12 Feb. 1977; 5: Observation; 6: Mainichi Shinbun. 4 March 2005.

Fig.2. Location of Ice-entrapment of Killer whale off Hokkaido and South Kurils in 1925 - 2005. Numbers refer to Table 2.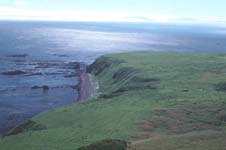 Hunpe-oma-moy, Ainu word means "whale stranding bay" at the east side of Shiretoko Cape. The Ainu people referred that stranding of ice-entrapment whales were coming almost every year.

---